Houstonians demand democracy now in Egypt!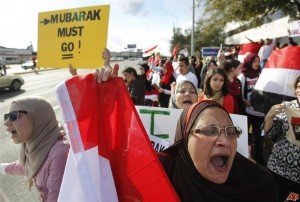 By James F. Harrington
HOUSTON – Today's protest in front of Houston's Egyptian Consulate General's office was scheduled to be held from 2:30pm until 3:30pm. It was a clear sunny afternoon.
When I arrived at around 2:20pm, there were already about twenty protesters outside the Egyptian Council headquarters.
In about ten minutes, this small group increased to about five hundred people.
Participants were diverse, and many were Egyptians. There were young people and older ones also. There were also many non arab people in attendance.
One pregnant young woman was teaching her young daughter to make the clenched fist sign.
Many young girls had the Egyptian flag painted on their faces. One of whom held a sign that read: ARREST MUBAREK!
Some of the organizers had a public address system on which one young man read a poem dedicated to the Eqyptian people. They also chanted slogans such as:
From the Nile River to the sea,
Eqypt, Eqypt must be free…
Houston's fire engine number 28 drove by the protesters three times. At each passing the firemen were all waving and honking the engine's loud horn.
The crowd was still strong at 3:45 which is the time I left the scene.
Similar Posts