Houston janitors fight for their families and their families fight for them
By James Thompson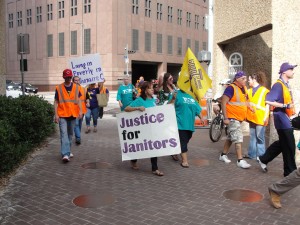 HOUSTON – Houston janitors organized by the Service Employee International Union have been involved in a contract dispute since their contract expired on May 31. They have held a number of events to make the public aware of their plight. They are seeking wages of $10 an hour, whereas they are currently being paid a top wage of $8.35 an hour.
During a demonstration near the Galleria on July 11, a union organizer from California, Leticia Salcedo, was arrested and spent the night in jail according to the Houston Chronicle. About 400 janitors and their supporters from the community and other unions participated in the event to show solidarity with the striking janitors.
Salcedo was previously arrested in a similar event about a month ago when she attempted to assist a worker that had been knocked to the ground by the mounted police.
The janitors went on strike on July 10 and about 250 of them walked off the job because of failed negotiations between SEIU and building contractors.
On Saturday, July 14, nearly 300 people marched outside the Galleria in spite of rainstorms and hot weather. The called the event "The Children's Day of Action" and it was held on the fifth day of the janitors' strike. They were supported by the Houston Peace and Justice Center and the AFL-CIO as well as other community organizations. About 60 children held banners and chanted "Si se peude" or "Yes, we can."
These brave people are fighting for their right to a living wage and for a better future for all.
Similar Posts