Election 2016
20 Examples of Bernie Sanders' Powerful Record on Civil and Human Rights Since the 1950s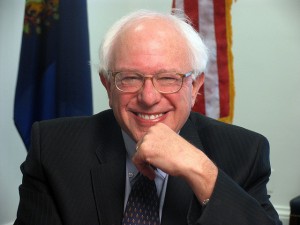 From fighting segregation to standing against police violence.
By Zaid Jilani / AlterNet
http://www.alternet.org/election-2016/20-examples-bernie-sanders-powerful-record-civil-and-human-rights-1950s?sc=fb
July 20, 2015
Over the past few months, one lingering attack on Bernie Sanders' candidacy for the Democratic nomination is his supposed indifference to racial justice and civil rights issues.
But the truth is, Sanders has a 50-year history of standing up for civil and minority rights, as he told the attendants of Netroots Nation after he was interrupted by Black Lives Matter protesters. Of course, it's understandable that they want to bring attention to the movement. Killings of people from Ferguson to New York City to Los Angeles to Atlanta have finally brought important issues like police brutality, systemic racism, mass incarceration and militarization of the police into the center of national dialogue.
It is up to all candidates for the presidency, including every Democrat, every Republican and independent candidates, to address these issues in a forthright manner and to do outreach and communicate with communities that are besieged by these problems. Although his events in Phoenix, Houston and Dallas, where he loudly condemned police brutality and racism were a start, Sanders owes it to pay attention to these activists and listen to the concerns of marginalized groups whose civil rights have historically been suppressed. Sanders does have a record of fighting on these issues, and it should be only natural for him to be able to comfortably address them before a diverse audience.
Here are 20 ways Sanders has stood up for civil and minority rights, starting in the early 1950s up to the present year.
Raising Money For Korean Orphans: International solidarity was an unusual concept for any American to have in the 1950s, let alone a high school student. But one of Sanders' first campaigns was to run for class president at James Madison High School in New York City. His platform was based around raising scholarship funds for Korean war orphans. Although he lost, the person who did win the campaign decided to endorse Sanders' campaign, and scholarships were created.
Being Arrested For Desegregation: As a student at the University of Chicago, Sanders was active in both the Congress on Racial Equality (CORE) and the Student Nonviolent Coordinating Committee (SNCC). In 1962, he was arrested for protesting segregation in public schools in Chicago; the police came to call him an outside agitator, as he went around putting up flyers around the city detailing police brutality.
Marching In March On Washington:Sanders joined the mega-rally called by the leaders of the civil rights movement, a formative event of his youth.
Calling For Full Gay Equality:40 years ago, Sanders started his political life by running with a radical third party in Vermont called the Liberty Union Party. As a part of the platform, he called for abolishing all laws related to discrimination against homosexuality.
Standing Up For Victims Of U.S. Imperialism In Latin America: While mayor of Burlington, Vermont, Sanders formally protested the Reagan government's policy of sending arms to Central America to repress left-wing movements. In 1985, he traveled to Nicaragua to condemn the war on people there. He writes about it in his book Outsider In The House: "The trip to Nicaragua was a profoundly emotional experience….I was introduced to a crowd of hundreds of thousands who gathered for the anniversary celebration. I will never forget that in the front row of the huge crowd were dozens and dozens of amputees in wheelchairs – young soldiers, many of them in their teens, who had lost their legs in a war foisted on them and financed by the U.S. government."
Condemned And Opposed Welfare Reform and Dog Whistle Politics:While President Bill Clinton and most Democrats in Congress supported so-called welfare reform politics, Sanders not only voted against this policy change, but wrote eloquently against the dog whistle politics used to sell it, saying, "The crown jewel of the Republican agenda is their so-called welfare reform proposal. The bill, which combines an assault on the poor, women and children, minorities, and immigrants is the grand slam of scapegoating legislation, and appeals to the frustrations and ignorance of the American people along a wide spectrum of prejudices."
Vocally Condemned and Opposed Death Penalty and Prisons His Entire Political Career:Sanders has long been a critic of "tough on crime" policies. Here he is in 1991 condemning a crime bill for promoting "state murder" through expansion of the death penalty:
"My friends, we have the highest percentage of people in jail per capita of any nation on earth….What do we have to do, put half the country behind bars? Mister Speaker, instead of talking about punishment and vengeance, let us talk about the real issue. How do we get to the root causes of crime? How do we stop crime? … I've got a problem with a president and Congress that allows five million people to go hungry, two million people to sleep out on the street, cities to become breeding grounds for drugs and violence. And they say we're getting tough on crime. If you want to get tough on crime, let's deal with the causes of crime. Let's demand that every man, woman, and child in this country have a decent opportunity and a decent standard of living. Let's not keep putting more people into jail and disproportionately punishing blacks."
He also voted for an amendment in the crime bill to eliminate the death penalty with life imprisonment.
This validates Sanders' strategy of looking to the economy as the top concern of minority communities. He has put out a detailed strategy to target unemployment across America and particularly to attack Hispanic and black youth unemployment, which he introduced in August 2014, long before he announced for president.
None of this is to say that the Sanders campaign doesn't need to do more outreach to a broad array of people; the rallies in Phoenix, Houston and Dallas were a start, as they featured heavy presence of Latino and African Americans. The campaign is reportedly set to meet with the Southern Christian Leadership Conference next week, and will be campaigning heavily in the Southeast starting next month, with an event in New Orleans at the tail end of this month.
But much of the criticism of Sanders seems more rooted in who he is — an old white guy from Vermont — than what he has done. If anything, the fact that he has done so much for civil and minority rights despite the fact that his constituency is not one that would naturally demand it speaks to his character and wide empathy that isn't shared by many politicians.
Zaid Jilani is an AlterNet staff writer. Follow @zaidjilani on Twitter.