May day celebrated in Houston
HOUSTON – Our CPUSA Houston club attended the May Day march in honor of Tim O'Brien, a local labor activist and member of the CPUSA Houston club who died last week after a long battle with cancer.
The march to support immigrant's rights attracted many local activists from a wide variety of progressive organizations to include TSEU, SEIU, FIEL, CRECEN, Houston Peace and Justice Center and many others. About 2000 marched and rallied to support immigrant rights and celebrate May Day.
Participants were from a diverse background to include African American, Latino, Anglo, Asian American and many others.
Speakers and participants demanded rights for immigrants as well as justice, dignity and respect in the workplace. Participants were lively and very vocal and enthusiastic in their participation. Chants included "No to deportation! Yes to education!" One woman carried a sign which read "Do I look illegal?"
There was a tribute to Tim O'Brien and a plaque of appreciation was presented to his family. Here are some words written in honor of Tim by one of our club members:
"I will always remember Tim as a brave, outstanding leader and fighter for the underprivileged working class. He didn't hesitate to get right in the middle of many fights against large parasitic organizations and corporations feeding off the labor of working people here and around the world. He was an internationalist who understood that injustice against workers in other countries is used to oppress workers in this country. He fought tirelessly against sweat-shop labor and stood up for the voiceless. He joined several of us when we went to Austin with the AFL-CIO to fight for health care and was a powerful presence at countless rallies and protests.
He was also a marvelous historian and completed his Ph.D. in African American studies from the University of Houston. I attended his oral examination for his Ph.D. candidacy and was impressed by his writing and research abilities. His dissertation was on Lightnin' Hopkins, a famed Houston musician. He completed his manuscript for publication of a biography of Lightnin' Hopkins on March 24. Visit his website at http://lightninghopkins.org/
Many injustices were done to him and he fought against them fearlessly and prevailed in many cases. However, the injustices of our medical system and his difficulty in accessing healthcare clearly shortened his exemplary life. He should be remembered as a martyr of our broken health care system.
He was a family man and clearly loved his wife and child. He even brought his child to some rallies to teach her about democracy and the beauty of standing up to injustices committed against our brothers and sisters.
We extend our deepest condolences to Tim's family and friends and mourn the passing of this beautiful, wonderful man who can be an example to all of us who champion worker's rights and the interests of working people."
At the presentation and throughout the march a sign proclaiming "Jobs with Justice" was displayed prominently. It was a sign made by Tim.
The sign was offered to his family, but his sister asked that we keep the sign and use it to promote progressive causes. She felt that would be the best way to honor Tim and carry out his vision. I assured her that we will do just that.
It should be remembered that May Day is a holiday celebrated throughout the world, but is largely ignored in this country. It is a holiday to commemorate the Haymarket uprising which eventually resulted in the establishment of the 40 hour work week. Two Texans, Albert and Lucy Parsons, were the leaders of that uprising. Albert Parson and other Haymarket martyrs were hanged in Chicago in 1887. Lucy Parsons lived until 1942 and was a member of the Communist Party USA during the last years of her life.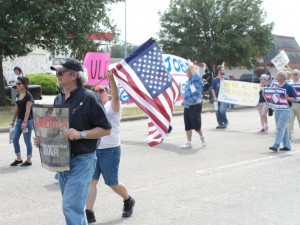 Similar Posts