HUFFPOLLSTER: Signs Of Trouble For Donald Trump In New Hampshire And Beyond
Ted Cruz also faces a tough road ahead.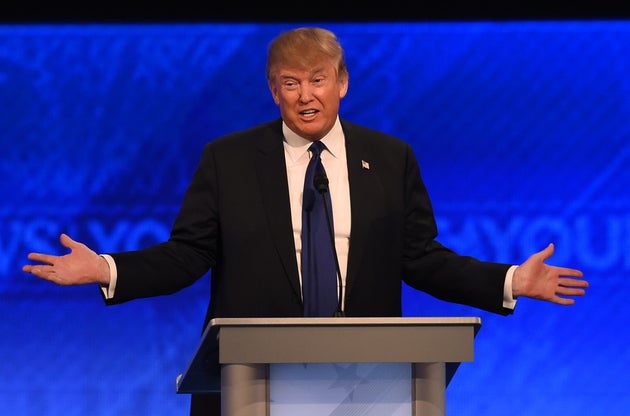 JEWEL SAMAD via Getty Images
Donald Trump and Ted Cruz face considerable challenges. We face a mountain of new polling in New Hampshire. And Hillary Clinton spent more on polling in the last quarter of 2015 than most of the GOP candidates combined. This is HuffPollster for Monday, February 8, 2016.
NEW HAMPSHIRE POLLSTER WARNS TRUMP COULD BE FALTERING – Howard Fineman: "Republicans who aren't in Donald Trump's camp and independent polltakers and experts here are increasingly convinced that the fear-peddling billionaire is losing momentum and could even lose on Election Day. 'I've been convinced since day one that he would not win in the end,' said Andy Smith, the respected dean of New Hampshire polling and a teacher at the University of New Hampshire…. More than a third of voters have said they definitely would NOT vote for Trump, a very high number at the same time that there is a huge undecided vote, Smith told The Huffington Post in an interview….Though Smith's latest poll puts Trump at 28 percent and his nearest competitor — Rubio — at 15, Smith thinks that there is time for Trump to fall further, and perhaps for Rubio, Kasich or Cruz to catch up to him. [HuffPost]
Prediction markets show Trump in decline – Paul Krishnamurty: "When Trump came in second to Ted Cruz in Iowa, he took a big hit in the betting markets: His chance of winning the nomination was at 50 percent before Iowa, then almost immediately fell to 25 percent after the caucus results. As for New Hampshire, before Iowa, the market gave Trump a 75 percent chance in the state. Now he's hovering around 65 percent, with the odds going up and down every five minutes. So yes, the market still favors Trump to win the state, but the key detail is that Trump is falling fast—faster than anyone else." [Politico]
Note: The prediction market numbers change quickly, and since the Politico article was published Trump has rebounded to 80 percent in New Hampshire. His chances of winning the nomination remain far below Iowa levels.
Cruz also faces a difficult road ahead – Nate Cohn: "[Cruz] won Iowa for one reason: He excelled among people who described themselves as 'very conservative.'…He lost every other ideological category, and often by a lot. The national Republican primary electorate is far more moderate than Iowa's, so Mr. Cruz will need to attract a far broader coalition. The history of recent conservative Iowa winners — like Rick Santorum and Mike Huckabee — offers plenty of reasons to wonder whether he can count on doing so….That's why Mr. Cruz has so little traction in New Hampshire." [NYT]
THERE HAVE BEEN A WHOLE LOT OF NEW HAMPSHIRE POLLS – HuffPollster: "Pollsters have been busy in New Hampshire the last few days. As of this post's publication, HuffPost Pollster's charts have added 15 [as of Monday morning, 25] polls of the New Hampshire primaries that were conducted after last Monday's Iowa caucuses — nine [as of Monday morning, 13] of the Republican primary and six [as of Monday morning, 12] of the Democratic primary….Many of the New Hampshire polls show similar trends, although with some notable differences — Sen. Bernie Sanders (I-Vt.) might have a commanding 30-point lead over [Hillary] Clinton, or he might be up by only 9 points. Ohio Gov. John Kasich might be in second place for the Republicans, but it's possible either Sen. Marco Rubio (R-Fla.) or Sen. Ted Cruz (R-Texas) holds that spot. The best option for understanding where things stand is probably to look at polling averages." [HuffPost]
Republican polls show a very close race for second – While Donald Trump, polling at nearly 31 percent in New Hampshire, has a clear lead in the HuffPost Pollster average, the race for second place is far more interesting. Rubio is slightly ahead with an average of 16 percent support, with Kasich and Cruz at 13 percent each. An average of 7 percent are telling pollsters they're undecided. What those voters do — if they vote — will have a substantial effect on the outcome. [HuffPost]
POLLING MISS IN IOWA LENDS INSIGHT INTO NEW HAMPSHIRE AND BEYOND – HuffPollster: "In the aftermath of Sen. Ted Cruz's (R-Texas) surprise Iowa win, pollsters have been trying to figure out why he and Sen. Marco Rubio (R-Fla.) surged beyond expectations, even as businessman Donald Trump flopped. The reasons why pollsters got it wrong could be key to understanding how much trouble Trump faces in New Hampshire and beyond, and how accurate surveys of future primaries will be. There are two main theories: Polls screwed up in predicting which people would actually show up to the caucuses….. Voters changed their minds after most polls were finished…. Nearly a quarter of voters who'd supported Trump in Monmouth's final poll never ended up voting, compared to just 13 percent of Cruz and Rubio supporters. But the more important factor was the 21 percent of those who did make it to the polls but ended up switching their vote. Those switches largely worked in favor of Cruz and Rubio." [HuffPost]
GOP VOTERS ARE READY FOR SOME WINNOWING – HuffPollster: "Republican voters would be fine with seeing the field get even smaller, according to a new HuffPost/YouGov poll.A majority of likely Republican voters think that every candidate save Sen. Ted Cruz (R-Texas), businessman Donald Trump, Sen. Marco Rubio (R-Fla.) and retired neurosurgeon Ben Carson should drop out….Trump is widely considered the favorite to win in New Hampshire's primary on Tuesday, but there's less certainty about his ability to become the eventual nominee. Instead, the predictions are about evenly divided among three candidates — 29 percent think Rubio will win, 27 percent think Trump will and 24 percent think Cruz will. No other candidate is considered the likeliest nominee by more than 2 percent of respondents." [HuffPost]
CLINTON SPENT MORE ON POLLS THAN MOST GOP CANDIDATES COMBINED – Ari Melber: "In the three months leading up to the Iowa caucus, many Republicans spent little to nothing on polling. Marco Rubio and Jeb Bush each spent just over $150,000 on campaign polls, while the two non-politicians in the race, Ben Carson and Donald Trump, declined to buy any polling research at all….Ted Cruz was the only Republican who spent much on polls – over $380,000 – and his campaign threw another $3 million into separate data for 'donor modeling.'…Hillary Clinton spent  $720,000 on polls last quarter – as much as the six top Republican candidates combined….In the third quarter last year, [Bernie Sanders] spent $52,000 on research, listing no outlay on polls. In the most recent quarter, his polling bill jumped above $500,000 – more than any other Republican candidate." [MSNBC]
HUFFPOLLSTER VIA EMAIL! – You can receive this daily update every weekday morning via email! Just click here, enter your email address, and click "sign up." That's all there is to it (and you can unsubscribe anytime).