By James Thompson
HOUSTON – At 2pm today, Saturday, December 07, 2013 in the River Oaks neighborhood in Houston, Texas about 30 progressive activists, union members and residents of this city braved the cold weather and drizzling rain and gathered in front of Ted Cruz' residence. Cruz has a condominium located in the most exclusive neighborhood in Houston, River Oaks. River Oaks is home to Houston's multibillionaires and has some of the most expensive residences in the area. The theme of the gathering was "Ted Cruz does not represent us!" Ted Cruz is the newly elected Tea Party Senator from Texas. Participants in the rally included women and men and they were multi-ethnic and multi-racial. The crowd also included adults as well as children.
Cruz has distinguished himself in the U.S. Congress by leading the obstructionist sector of the Republican Party in the U.S. Congress. In his successful campaign for the seat in the U.S. Senate, Cruz brayed that his parents left Cuba to escape from Fidel Castro. When the facts were checked, Cruz' parents left before Fidel Castro rose to power in Cuba, so that, in fact, Cruz' parents fled Batista, the U.S. backed, terroristic dictator who ruled Cuba before the revolution. Mendacity has never been a disqualifying characteristic for holding public office in Texas. Cruz was born in Canada, so it was a progressive step for Texas to elect an immigrant. Unfortunately, Cruz is an immigrant who fights against immigrant's rights. Some people quipped that Cruz just wants to make the world safe for hypocrisy.
The rally was loud, vigorous and peaceful in its demonstration that not all Texans support the reactionary views of this vicious right winger. The rally was organized by the Progressive Workers Organizing Committee and the Latin American Organization for Immigrant Rights. The flyer for the rally noted that Cruz: "led the shutdown of the federal government in order to prevent the expansion of health care. He rejects a path to citizenship for 11 million undocumented immigrants. He opposes women's health care and reproductive freedom. He opposes LGBT anti-discrimination laws and marriage equality. He has made racially charged statements about President Obama, segregationist Jesse Helms, and other people. He denies human-caused climate change and opposes new environmental protections. He supports unbridled capitalism and more wealth for the 1% while opposing unions, workers' rights, Social Security, and food stamps."
The temperature was in the thirties, which is very cold for Houston, even in the winter. The organizers led the rally with a number of lively chants including:
"Hey, hey, ho, ho — Ted Cruz has got to go!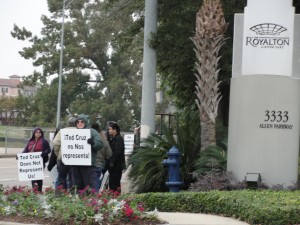 Health care is a human right! Cruz is wrong—we're going to fight!"
Sexist, racist, anti-gay!
Ted Cruz — go away!
Keep Food Stamps!
Fire Ted Cruz!
Cruz says: Cut back!
We say: Fight back!
Cruz says: Get back!
We say: Fight back!
Cruz is harming us by the hour!
What do we do? Fight the power!
Women need the right to choose!
When we vote, Cruz will lose!"
It should be clear from this rally that not all Texans want Ted Cruz to be their senator. He continues to build a strong case for removing him from office in the next election cycle. Some feel that Cruz is a blatant traitor to working people and has already jeopardized the brittle social safety net in the U.S. Although he represents his wealthy benefactors and wealthy neighbors very well, his reckless antics have pushed marginalized sectors of the population closer to the brink of disaster. More demonstrations are needed to confront and expose this negative character in U.S. politics.
Here are the links to videos of the rally against Ted Cruz held in Houston on 12/7/2013: