TSU symposium explores the art of the African diaspora
worker
| April 27, 2010 | 11:48 am | Uncategorized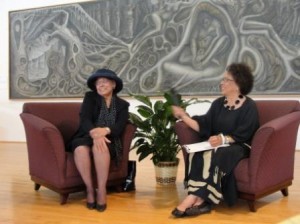 By Paul Hill, People's World
HOUSTON – The Texas Southern University, which is the second largest Historically Black College and University in the U.S., just celebrated the tenth anniversary of the University Museum. The celebration featured a symposium entitled "The John T. Biggers Carroll Harris Simms Symposium: On the art of the African diaspora. Building upon our legacy."
The symposium was enlightening and instructive. John Biggers was a world famous artist known for his remarkable murals. He and his wife, Hazel, came to Houston and TSU in 1949. Dr. Biggers was hired to start an art department at the new HBCU in Houston. Carroll Simms was a renowned sculptor who also was instrumental in developing the art department at TSU.
Three of the students discussed Drs. Biggers' and Simms' legacy. The students were Elizabeth Montgomery, Charles Criner and Jesse Sifuentes. Sifuentes discussed his experience as a student and noted that the two professors "didn't take anything for granted…and met you where you were at." He said that Biggers instructed him in the fundamentals and emphasized "craftsmanship."
Sifuentes also pointed out that Biggers sought to help students understand the importance of using their own culture in constructing their art. Biggers also taught his students the importance of the concept of "continuation" of the process of developing art.
Students remembered that Dr. Biggers was influenced by the world famous Mexican muralists, Diego Rivera and David Siqueiros. He was also influenced by a world famous African American muralist, Charles White.
Since most of the students and faculty were of African descent, there was a great deal of emphasis on Africa and the symbolism of African culture on the continent and in this country.
Charles Criner recalled that Biggers sought to instill the importance of togetherness. Elizabeth Montgomery told the audience that they were introduced to opera and classical music by Simms. They were also taught about the importance of excellence in art. Classes lasted 9 hours and students frequently worked into the wee hours of the morning. Simms taught them that art reflects what has happened, what is happening and what will happen in the future. They were taught that art is the glue of existence and serves to document what is happening in the artist's community.
The TSU art department is the only university art program in the country that has mural painting as a required course.
Dr. Alvia Wardlaw, curator of the University Museum, said that both Simms and Biggers constantly asked their students questions centering on "What does that mean?" She recalled that both were wonderful storytellers.
The audience was treated to a conversation with the artist's wife, Hazel Biggers. She told the story of Biggers being denounced by one of his students as a "communist." She said he could not get a passport to travel out of the country because of this. He was called before the House Un-American Activities Committee in 1956 and was subsequently cleared. He and Mrs. Biggers travelled to Africa in 1957 and this was apparently a life changing experience for both of them. According to Mrs. Biggers, the conclusion of the HUAC, which was conducted in Houston, was that the great artist was a "good old boy from North Carolina and those Yankees messed up his mind."
Biggers continued his activism after these experiences and when the Houston Police Department invaded the TSU campus in 1967, he and his wife provided shelter to injured students in their home in the Third Ward. He also worked to form a committee to investigate the police actions on campus. He worked tirelessly to defend the beautiful murals done by TSU art students which can be seen in Hannah Hall, the main administration building on the TSU campus. There is a major effort underway to have the building and murals which reflect the civil rights struggles of the 50s, 60s and 70s in Houston declared a National Historical Site. There is also an effort to start restoring and preserving the murals since they are starting to deteriorate.
Mrs. Biggers said her deceased husband's legacy was "respect for women…hard work…and if it's important, do it and do it well and do it every day."
Photo: Hazel Biggers, left, and Alvia Wardlaw, Ph.D., curator of the University Museum. Paul Hill/PW
Similar Posts