Occupy Houston gets underway
By James Thompson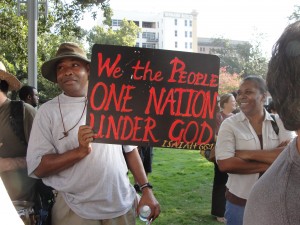 HOUSTON – About 600 activists helped launch the Occupy Houston event today (10/6/11)to express solidarity with the Occupy Wall Street effort. The crowd was peaceful and there were no confrontations with police. The closest thing that I witnessed to a confrontation was when a mounted police officer yelled at several of us "Stop!" in a tone of voice that commanded our attention. When I regained my composure, I realized that the people in front of me had almost walked out into ongoing traffic and the officer probably saved their lives. After it was over, I heard him say, "I just didn't want anyone to get hurt." This is quite a contrast to the treatment of the protesters in New York City by NYPD.
The crowd was diverse and consisted of men and women, Anglos, African Americans, Latinos, Asians who were young and old and represented a wide variety of progressive organizations. Organizations represented included Houston United, CRECEN, HIWJC, Harris County AFL-CIO, UAW, IBEW, AFT, Houston Peace and Justice Center, KPFT, Houston Peace Council, Houston Communist Party, Harris County Green Party and many others.
I didn't see any Tea Party counter protesters, but the Houston Chronicle found one and devoted numerous pictures to his antics.
The event commenced at 8:30am at Market Square Park and we marched to the JP Morgan Chase Bank Tower, where a brief rally took place, and then proceeded to Hermann Square Park in front of Houston City Hall. The occupation then started at Hermann Square Park.
Iraq veterans were present and one addressed the crowd, proclaiming that he loves America and fought for America, but vigorously protested high unemployment rates, corporate bailouts and corporate greed.
The Houston Chronicle quoted one participant in this demonstration of democracy, "'I think that money plays too big a role in our political process in this moment in history, and I believe it's damaging the country,' said Eugene Hayman, 57, a chemical plant worker from Deer Park. 'I'm afraid what the future holds if the people with all the money continue to run this country in a way that profits them at the expense of everyone else.'"
The crowd was loud and spirited. We chanted, "They (banks) got bailed out, we got sold out!" "The people united will never be defeated!" and "Hey, hey, ho, ho, corporate greed has got to go!" People also shouted "We are…the 99%!" referring to the fact that the top 1% control the wealth and the rest of us work for them.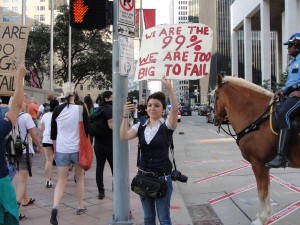 Many people voiced frustration with the lack of a comprehensive health care system and that the current system serves the wealthy and is paid for by the poor.
Many people were also present to support immigrant worker rights.
Demonstrations across the country were taking place today as well including Washington, D.C., Austin, Dallas, San Antonio and many others.
President Barack Obama had this to say "I think people are frustrated and the protesters are giving voice to a more broad-based frustration about how our financial system works…The American people understand that not everybody has been following the rules, that Wall Street is an example of that…and that's going to express itself politically in 2012 and beyond."
Mr. President, this is only the beginning! The American people are fully awake and recognize that the countless wars in which the U.S. is embroiled are leeching away our vital national resources to serve the interests of the wealthy and their corporations. The 99% are demanding their fair share of the wealth that they have produced. Although the 1% are ruthless, brutal and employ the most terroristic tactics to control the working people, they are hopelessly outnumbered by those they have exploited and oppressed. From what I saw today, working people are ready to fight for their interests.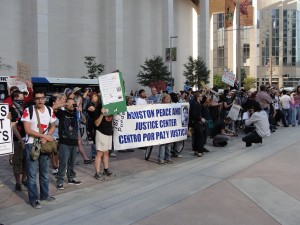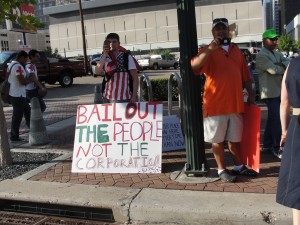 Similar Posts