Cuba Beats Swords into Plowshares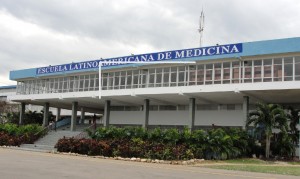 By James Thompson, Ph.D. via Houston Indymedia
HAVANA, Cuba – One day in 1962 when I was a child of about 10, I was playing in the backyard of a neighborhood friend in Tulsa, Oklahoma. My friend had a squabble with his mother and I was shocked when he shouted at her, "I'm going to send you to Cuba!" I was shocked because it was commonly thought that Cuba was the worst place on earth and saying this to your mother was one of the worst things imaginable that could be said.
Some 48 years later I went to Cuba to find out for myself. I was part of a delegation of health care professionals that visited Cuba from 1/8/10 to 1/18/10 to study the Cuban health care and mental health care system. The delegation was organized by Marazul travel agency which is one of the few U.S. travel agencies licensed to assist U.S. citizens to travel to Cuba.
After nearly 50 years, there is still a travel ban for U.S. citizens who want to travel to Cuba. Cuba is the only country in the world that U.S. citizens cannot travel to freely.
Our delegation, which used the organizations Witnesses for Peace and Latin America Working Group as consultants, toured many health care and mental health care facilities in Havana and visited some rural health care facilities in Puerto Esperanza. Many of our meetings occurred in the Martin Luther King, Jr. Center in Havana and we were served delicious meals there as well. Next door to the MLK, Jr. Center is the Ebenezer Baptist Church.
In Cuba, health care and mental health care are considered to be rights just as they consider education a right. Health care and education are provided to all citizens at no cost.
The Cuban health care system does a lot with few resources. We visited a family doctor's office. Family doctors are stationed in all neighborhoods and actually have evening hours for working people. They make referrals to more specialized services when they cannot handle the condition that afflicts their patients.
We visited a polyclinic which provides the next level of care. They have specialist doctors in these clinics who treat and make referrals to even more specialized levels of care such as psychiatric and substance abuse, HIV/AIDS, maternity care and rehabilitation. The director of the polyclinic told us that they meet with trade unions and people from the community to determine how to allocate resources to best serve the particular community.
We visited a psychiatric clinic and substance abuse treatment center, a rehabilitation center, a leprosy facility, an HIV/AIDS facility and a general hospital. We also visited a polyclinic and maternity home in a rural area. The polyclinic we visited was part of Cuba's disaster preparedness program. Cuba has one of the best disaster preparedness programs in the world and they consistently have the lowest number of mortalities when Hurricanes strike.
I was impressed by the sincere, loving, caring attitudes of the health care providers with which we met. I didn't see long lines at clinics in spite of the fact that the doctors are pro-active and go out in the neighborhoods to assist needy patients. Believe it or not, family doctors do routine house calls in each neighborhood. They emphasize prevention as well as treatment.
Due to the U.S. embargo, Cubans cannot receive many U.S. made health products. We were told that many Cuban babies die because Cuba cannot purchase life saving medicines for infants from the U.S. because of the embargo. Cuba cannot purchase water treatment chemicals made in the U.S. because of the embargo. The embargo creates unnecessary public health problems in Cuba and precludes U.S. corporations from benefiting from trade with Cuba. At a time when many people are being laid off in the U.S., it seems very destructive to hold on to a failed policy that constricts employment in the U.S. and hurts innocent Cubans.
We also visited the world famous Latin American Medical School (ELAM) near Havana where foreign medical students are trained to be physicians free of charge. There are students from the U.S. studying there and we met with them. The Cubans require that the students who are accepted to the medical school make a commitment to return to their communities post graduation and serve underserved populations, i.e. poor people and minorities. Formerly, ELAM was a naval academy, but was converted to a medical school by the government.
We heard about the catastrophic earthquake which hit Haiti while we were there. Cubans had 400 doctors stationed in Haiti to provide healthcare in underserved areas. There were another 400 Cuban trained Haitian doctors providing health care services there. Cuba dispatched about 200 doctors immediately following the earthquake. That means there were about 1000 Cuban trained doctors in Haiti providing disaster health care services right after the earthquake.
Cubans also place a huge emphasis on culture and history. Former dictator Fulgencio Batista's Presidential Palace has been transformed into a Museum. Batista's Mansion is now a dance academy. The buildings surrounding Batista's Mansion, which were formerly barracks, are now being used as schools.
So the Cubans are literally beating their swords into plowshares while the U.S. is waging war across the globe.
Crime is virtually non-existent and it was safe to walk the streets of Havana at all times. The people were very friendly and helpful and seemed genuinely interested in meeting Americans. I met one elderly Afro-Cuban man who had lived in the U.S. for 26 years and decided to return to Cuba to retire. We met two women from the U.S. who decided to move to Cuba and they are married to Cuban husbands.
Cubans put it very well. One Cuban woman told us, "Cuba is not Heaven and it is not Hell."
Currently, there is legislation before Congress aimed at lifting the travel ban to Cuba. The House version is HR 874 and the Senate version is S428. This is the time for people to contact their Congresspeople to express their opinions on this issue.
It is amazing that in the U.S., which is a country that prides itself on being "free", citizens cannot travel to a beautiful country only 90 miles from our shores.
James Thompson, Ph.D. is a psychologist in Houston
Similar Posts