U.S. Communists Plan 29th Convention, Call to Action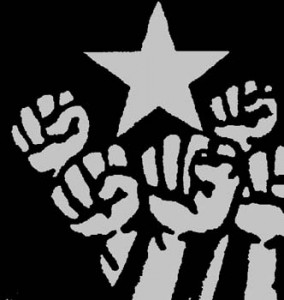 The Communist Party USA is making plans for its 29th National Convention to be held the weekend of May 21-23 at its national headquarters in New York City.
The convention takes place at what has the potential to be a turning point in the history of our nation. Whether or not that turning point is reached, and the hopes of the 2008 elections are fulfilled, will depend on the building of a broad progressive labor-led democratic movement able to defeat Republican obstructionism and the far-right forces of reaction.
Thus this cannot be an ordinary convention. The four months between now and the convention will see a flurry of activity by the party involving both discussion and action whose goal is to help build such a movement.
New technology including use of video and teleconferences will make it easier to have a very inclusive convention discussion. Not just the written word but the spoken word will be part of our pre-convention discussion, making it easier for all members and friends to participate.
The kickoff took place with a splash Thursday, January 21, with a nationwide live streaming web presentation by the party's national chair, Sam Webb, of our main convention discussion document, "No easy road to the future – but we'll get there," followed by a lively question and answer session. The web broadcast is available at cpusa.org.
The main discussion document is a call to build a far-reaching, labor-led coalition for jobs, peace and equality, to win progressive reforms from health care to immigrant rights.
In particular it is a call to action on the economic crisis. Our pre-convention period is occurring during the greatest economic crisis since the Great Depression and the party feels its documents and discussions must be turned into action.
Working to build the national the Jobs 4 America Now campaign being organized by labor, civil rights and democratic organizations is seen as a priority.
The document is also a call to expand the Communist Party and Young Communist League, organizations committed to building the widest possible unity for democratic and socialist change.
Other discussions and documents are being prepared, such as a recent submission by our commission on religion. Discussions are also being organized throughout the country. For more information, contact cpusa@cpusa.org
In addition to workshops and plenary sessions on a range of topics, the May convention will review the party's work and policy and elect new leadership.
The convention will be an exciting affair with an evening cultural celebration and rally, greetings from elected officials, labor and other mass leaders and a multimedia celebration of the 90th anniversary of the founding of the Communist Party.
Over 200 delegates and guests from Alaska to Maine and from Texas to North Dakota are expected.
Similar Posts