Jarvis Tyner in Houston Nov. 14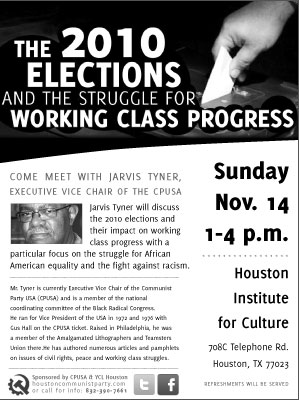 Download and print/distribute an event flyer PDF
Jarvis Tyner will speak in Houston on Sunday, November 14, at 1 p.m. at the Houston Institute for Culture, located at 708C Telephone Road.
Mr. Tyner was born July 11, 1941 in the Mill Creek community of West Philadelphia. He attended West Philadelphia High School Graduating in 1959. Tyner spent some years working in various industrial jobs in Philadelphia area he was a member of Amalgamated Lithographers and the Teamsters Union. In 1967 he moved to NY to become the national Chair of the Dubois Clubs of America. In 1970 he was elected the founding chairperson of the Young Workers Liberation League. He has been living in New York for four decades. He was elected chair of the NY district of the Communist Party in 1973 and served in that position until 1991.
Currently Mr. Tyner is the National Executive Vice Chairperson of the CPUSA. Mr. Tyner has authored numerous articles and pamphlets on issues of civil rights, peace, and working class struggles the latest being "The Republican Campaign to Suppress The Black Vote."
Mr. Tyner has a long history in the struggle for Civil Rights. He has been an active participant in the movement since the early sixties. He has written extensively on the subject of the struggle against racism especially its relationship to working class liberation.
He has on numerous occasions traveled and spoken internationally. He has attended the World Social Forum, the Sau Paulo Forum in Cuba and in late 2006 made a Black History speaking tour of Britain, Scotland and Wales sponsored by the Trade Union Congress. He also attended numerous other seminars and discussions on the fight for labor's rights against racism and neo liberal policies, the Iraqi War and other critical issues of peace and justice in the global context.
He also was part of a CPUSA delegation that conducted a study tour People's Republic of China and Socialist Vietnam in 2007. "In all my travels the most dramatic thing for me was to see that virtually the whole world is united against the policies of George W. Bush," Tyner said.
Tyner was quite active in the broad movement to defeat George W. Bush in 2000 and 2004 and to change the congress in 2006. In 2008 he was very active writing, speaking and campaigning as part of the broad movement for change to further weaken the right wing Republican hold on the US Congress and end their control of the White House.
Similar Posts